Ethereum (ETH) experienced notable momentum that drove the price above $1,300 after news of the much-anticipated merge made the airwaves.
The second-largest cryptocurrency based on market cap was up by 13.35% in the last 24 hours to hit $1,358 during intraday trading, according to CoinMarketCap. 
The merge is expected to transition the Ethereum network to a proof-of-stake (PoS) consensus mechanism from the current proof-of-work (PoS) framework, which has been elusive for a few years.
Previously, Ethereum researcher Justin Drake revealed that the merge was likely to happen in August because testing was in the final round. 
Nevertheless, during a recent developers' call, September 19 emerged as the most probable date for the transition. It was stipulated:
"Merge two weeks later (Sept 19th)."
An Ethereum Beacon Chain community health consultant, however, hinted that the merge date was not final and said:
"This merge timeline isn't final, but it's extremely exciting to see it coming together. Please regard this as a planning timeline and look out for official announcements."
Therefore, this news made the ETH market rally powerfully. On-chain insight provider Glassnode explained:
"Ethereum markets have rallied strongly off the back of a large short squeeze in futures markets. Over $98M in short futures positions were liquidated in one hour, pushing ETH prices up by 12.5%."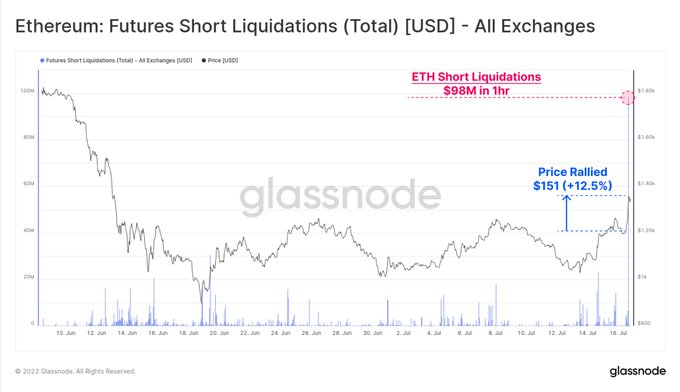 Source:Glassnode
The merge is estimated to be the biggest software upgrade in the Ethereum ecosystem because the PoS algorithm will allow the confirmation of blocks in a more energy-efficient way. Therefore, validators are required to stake Ether instead of solving a cryptographic puzzle. 
A DeFi educator under the pseudonym Korpi recently opined that the merge would be a game-changer because it would shift the selling pressure experienced in the Ethereum network. After all,  structural supply will change to structural buying.
Image source: Shutterstock