INJ, Injective Protocol's native token, has continued soaring in the past few months as demand for the DeFi-focused network jumped. The token rose to a high of $9.67, the highest point since February 7 of this year. In all, the token has jumped by more than 736% from the lowest level in December. 
Why is Injective Protocol is soaring
Injective Protocol is a fast-growing platform that aims to change the finance industry. It is one of the few protocols that is designed to disrupt the financial sector. It does this by creating a platform where developers can build quality dApps in the financial industry. The platform has low transaction costs and faster speeds.
There are several reasons why the INJ crypto price has been in a strong bullish trend. First, the developers are now running a hackathon that is seeing tens of developers submit their projects. Winners will receive both funding and mentorship from a team of experienced venture capital firms.
The other important Injective news is that it will now be possible to liquid stake INJ tokens. Liquid staking is a technology that makes it possible for people to stake their tokens in an easy and decentralized manner. 
With liquid staking, users can withdraw their tokens before the maturity period. This staking is being made possible by Stride, a leading Lido DAO alternative for the Cosmos ecosystem. It has over $25 million in total value locked (TVL).
The vote of liquid staking has attracted 57% of token holders, with more than 99% of voters being in the affirmative. Injective has an APY of 16.2% this year while the number of bonded tokens has risen to over 35.2 million tokens.
The most recent INJ news was a new proposal that will help it amplify liquid staking by incentivizing stINJ pool on Astroport.
INJ price prediction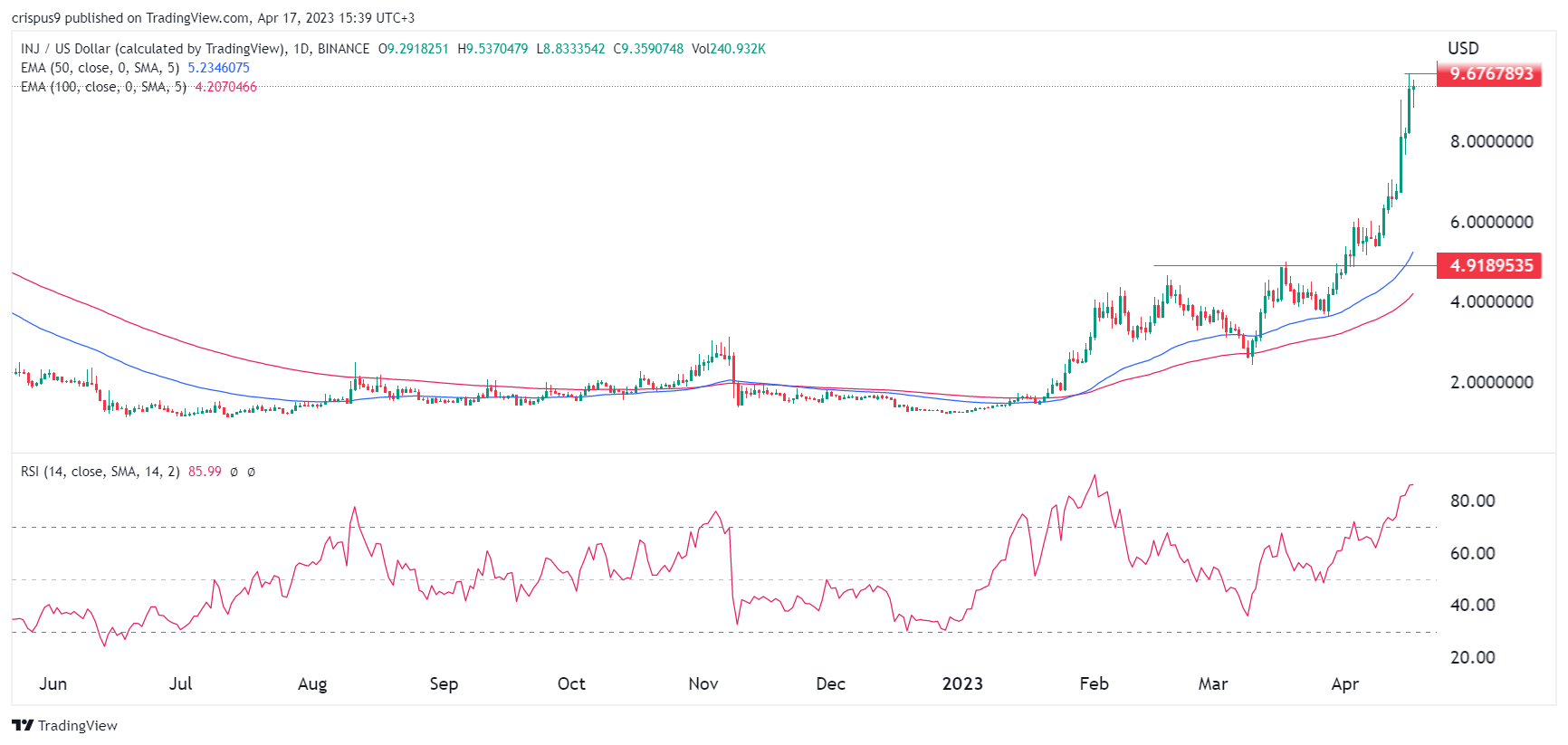 The daily chart shows that the INJ price has been in a strong bullish trend in the past few months. As it rose, the token managed to move above the key psychological levels of $8, $6, and $5. It has also jumped above all moving averages.
However, oscillators show that the token has become extremely overbought. Therefore, at this stage, a risk/reward analysis mean that it is a bit risky to invest in the token for now. As a result, there is a likelihood that it will pull back and retest the key support level at $4.91, which is about 46% below the current level.
How to buy Injective
KuCoin
Kucoin is a cryptocurrency exchange which offers over 200 cryptocurrencies.
Kucoin has a wide range of services, such as; a built-in peer-to-peer exchange, spot and margin trading, bank level security and a wide range of accepted payment methods.
Users can benefit from a beginner-friendly interface and relatively low fees.
Buy INJ with KuCoin today
Wazirx
WazirX is India's largest crypto exchange. Started in 2018, WazirX has grown to be the most trusted exchange in the Indian crypto market. It is a part of the binance group, serving users in 180 countries.
Buy INJ with Wazirx today